Registration fees ANT Neuromeeting 2020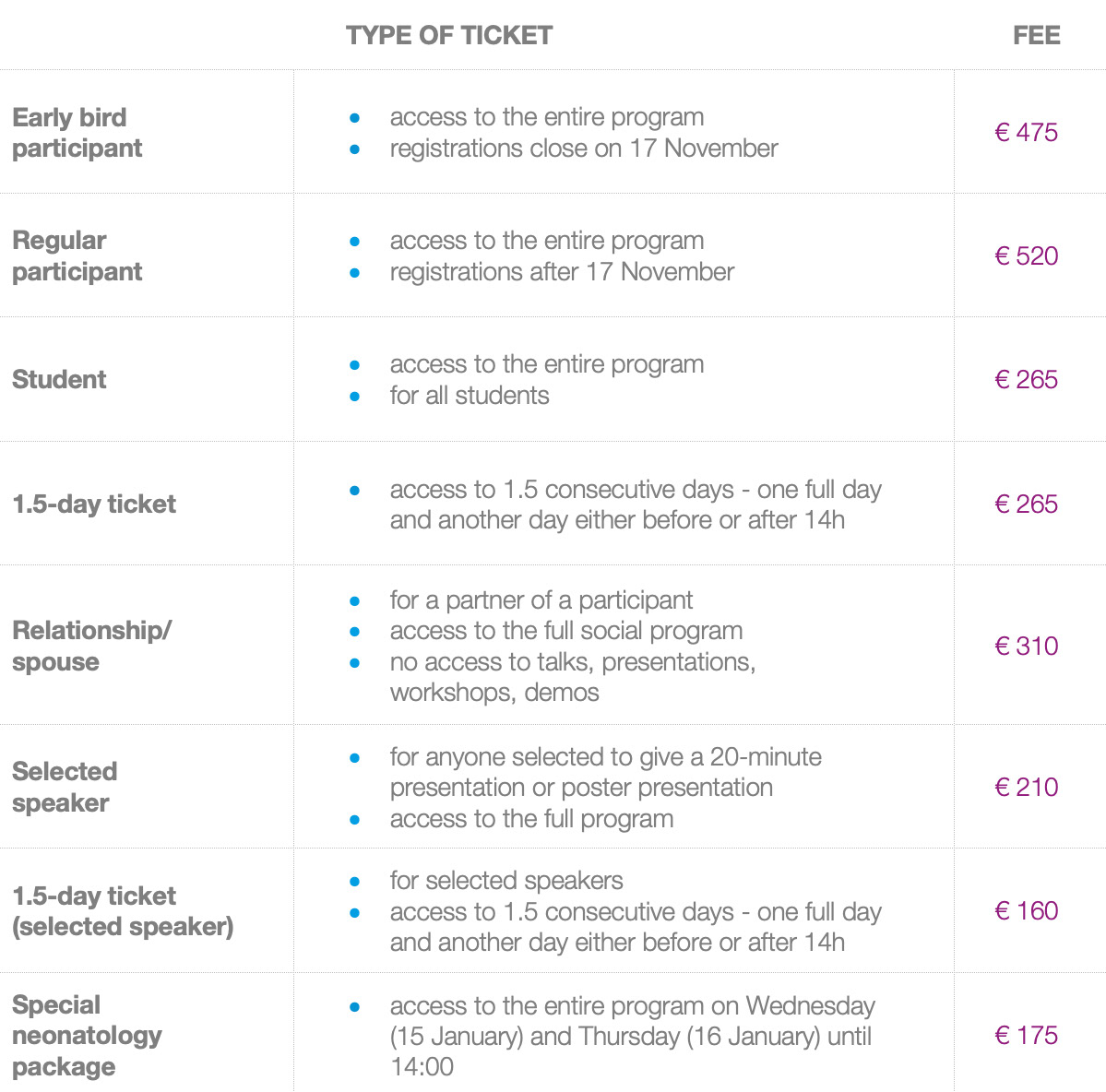 The registration fee for ANT Neuromeeting 2020 includes:
•

Access to the full scientific program and keynote lectures
•
Access to workshops and product demos organized throughout the meeting
•

Lunch on Thursday, Friday and Saturday
•

Dinner on Wednesday and Thursday, and gala dinner on Friday
•

Bus transport to and from the gala dinner location
•

Wine tasting and a rich social program
•

ANT Neuromeeting materials
Note on photography and filming
By registering for ANT Neuromeeting 2020, you consent to:
•
being photographed, filmed and/or otherwise recorded,
•
suc

h photos and recordings being used in any media in connection to ANT Neuromeeting 2020.
Important: Talks given during the conference will not be recorded, or a separate request will be made by the organizer.
The scientific program will be in English in order to enable everybody to follow the sessions, gain knowledge and participate in discussions. 
Certificate of attendance
As part of your registration, you can choose to receive a PDF certificate of attendance to your email, a printed certificate that you will pick up during the conference, or both.
Payment: invoice or credit/debit card
It is possible to pay the registration fee by invoice within 7 working days after the registration. All the information about the bank transfer is available in the automatically generated invoice by eventbrite which you will receive to the specified email address after your registration.
You can also pay immediately when filling out the registration form with a credit or debit card (MasterCard, Visa, or American Express), which is handled by Eventbrite Payment Processing.
If applicable, please include your institute's VAT number in your registration, and you will not pay 19% VAT on the ticket price.
Registrations and online payments for the event will be processed via the eventbrite website.
Participants can receive refunds for their registration up to 7 days before the event. Room bookings in Hotel Le Panorama are non-refundable.
​​​​​​​